| | |
| --- | --- |
| The Buzz for Graduate Students | October 16, 2019 |
Welcome to The Buzz, your weekly e-newsletter that keeps you informed on Media School opportunities, news, deadlines and events.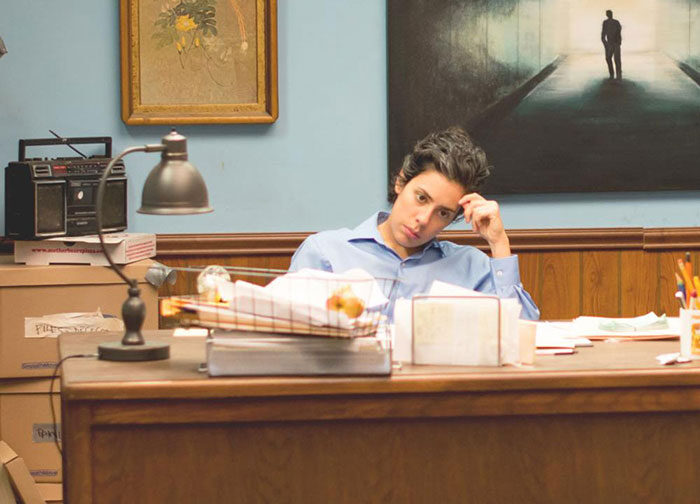 Adjunct instructor Kevin Weaver, BA'09, was the co-producer, editor and post-production supervisor on the Pigasus Pictures film.
| | |
| --- | --- |
| "Diorama Detective" immerses players in four interwoven, 3D mystery cases on their mobile devices. | Before she was a Media School professor, Elaine Monaghan was a Reuters correspondent, reporting from locations including Russia, Ireland, Albania, Macedonia and Kosovo. |
Oct

Season magazine issue launch party
6-8 p.m.
Franklin Hall commons
Season, IU's only fashion magazine, is celebrating the launch of its new issue, The Laws of Physics.
Oct

"The Brainwashing of My Dad" screening, panel discussion
6-8:30 p.m.
Buskirk-Chumley Theater
Assistant professor Jason Peifer will speak on a panel discussion following a screening of "The Brainwashing of My Dad," a documentary about filmmaker Jen Senko working to make sense of her father getting sucked into a conservative media bubble.
Tickets are $5 in advance or $7 at the door.
Oct

Indiana Daily Student Housing Fair
10 a.m.-4 p.m.
Alumni Hall, IMU
Meet with 30+ housing vendors representing hundreds of units and properties, and enter to win prizes from some of your favorite Bloomington businesses.
Oct

Beyond Appearances: Videoconference with French Film Director Francois Ozon
7:15 p.m.
Global and International Studies Building, Room 1060
Writer-director François Ozon will discuss his most recent film, "By the Grace of God"; the real-life events that inspired the film; and the complex relationship between filmmaking and the social and human realities that it depicts. The film, due to be released later this month, follows three men who band together to dismantle the code of silence that continues to protect a priest who abused them decades ago.
Oct

ICR weekly research meeting
11:15 a.m.-12:15 p.m.
Franklin Hall 017
Join other graduate students and faculty members to discuss social science research.
Research colloquium
12:20-1:10 p.m.
Franklin Hall 310
Assistant professor Mike Gruszczynski will speak on, "Seeing Beyond the Dataset: Combining Multiple Data Sources to Answer Tough Empirical Questions."
Oct

Science Fest
9 a.m.-3 p.m.
Franklin Hall
The Media School is part of IU Science Fest. Carve a virtual jack-o-lantern, star in a haunted podcast and interact with ghosts and goblins using the latest in audio and video game development software, and then measure your psychophysiological response.
Lisa Ling: Open Heart, Open Mind
11-11:45 a.m.
Indiana Memorial Union
Journalist Lisa Ling, host of CNN's "This is Life With Lisa Ling," will speak about cultivating a global perspective and opening our hearts and minds to the tough issues beyond the safety of our personal lives.
Admission is free.
"Dr. Strangelove" screening
4-5:35 p.m.
IU Cinema
"Dr. Strangelove or: How I Learned to Stop Worrying and Love the Bomb," directed by Stanley Kubrick, was produced during the Cold War and is a darkly comedic critique of nuclear weapons.
The event is free, but ticketed. The Media School is an event co-sponsor.
Oct

"Donbass" screening
4-7 p.m.
IU Cinema
"Donbass" (2018) depicts the current war between Russia and Ukraine. The film, which is part of the Ukrainian Homelands Film Series, explores the psychology of war, including how propaganda and "fake news" affect an individual's perception of events.
The event is co-sponsored by The Media School's Center for Documentary Research and Practice.
The event is free, but ticketed.
An Evening with Anderson Cooper
7 p.m.
Musical Arts Center
Anderson Cooper, anchor of CNN's "Anderson Cooper 360°," is the second speaker in The Media School's fall Speaker Series.
Tickets are available online and at the Musical Arts Center box office. Tickets are free for students, though online orders require a $5 service fee. Use the promo code STUDENT. No service fee is charged for in-person orders.
General admission tickets for non-students are $25.
Deadline: Jan. 20
This International Communication Association preconference, organized by Media School professor Radhika Parameswaran, is May 21 in Gold Coast, Australia.
Deadline: Oct. 25
This $500 award supports travel expenses for conferences, workshops, special trainings, competitions and auditions.
Deadline: Nov. 3
Awards will be posted in January. Students who plan to graduate in December 2019 are not eligible.
University of South Carolina
Postdoctoral fellow
This fellow will be part of a research project funded by the Fogarty International Center at the National Institutes of Health. The project involves working with researchers in Mexico, Guatemala and collaborating U.S. sites to analyze longitudinal survey and experimental data on the patterns, predictors and consequences of e-cigarette and cigarette use among adolescents and adults.
American Political Science Association
Communications congressional fellowships
Deadline: Dec. 3
This nine-month program in Washington, D.C., gives scholars and journalists a hands-on understanding of Congress through placements in congressional offices. Fellows begin their year with a comprehensive one-month orientation with congressional experts and policy leaders, then work in full-time placements of their choosing in a personal office or committee in the House of Representatives or Senate.
Deadline: Feb. 1
The Walter Center for Career Achievement will host its third Washington, D.C., spring break career trek for students in the College of Arts and Sciences. Students will network with employers and alumni through site visits, round tables, panel discussions, networking receptions and more. The Walter Center will hold eight information sessions during October.
If you have news to contribute, such as such as updates on your professional activity, complete our Submit Your News form.