| | |
| --- | --- |
| The Buzz for Undergraduates | October 16, 2019 |
Welcome to The Buzz, your weekly e-newsletter that keeps you informed on Media School opportunities, news, deadlines and events.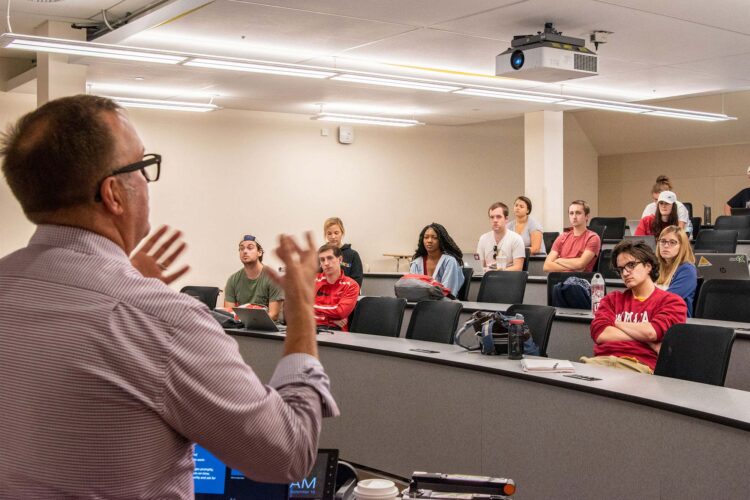 The one-credit courses fill gaps in the curriculum, expose students to industry professionals and facilitate student-alumni relationships.
| | |
| --- | --- |
| "Diorama Detective" immerses players in four interwoven, 3D mystery cases on their mobile devices. | Adjunct instructor Kevin Weaver, BA'09, was the co-producer, editor and post-production supervisor on the Pigasus Pictures film. |
| | |
| --- | --- |
| Before she was a Media School professor, Elaine Monaghan was a Reuters correspondent, reporting from locations including Russia, Ireland, Albania, Macedonia and Kosovo. | |
Oct

Season magazine issue launch party
6-8 p.m.
Franklin Hall commons
Season, IU's only fashion magazine, is celebrating the launch of its new issue, The Laws of Physics.
Oct

"The Brainwashing of My Dad" screening, panel discussion
6-8:30 p.m.
Buskirk-Chumley Theater
Assistant professor Jason Peifer will speak on a panel discussion following a screening of "The Brainwashing of My Dad," a documentary about filmmaker Jen Senko working to make sense of her father getting sucked into a conservative media bubble.
Tickets are $5 in advance or $7 at the door.
Oct

Indiana Daily Student Housing Fair
10 a.m.-4 p.m.
Alumni Hall, IMU
Meet with 30+ housing vendors representing hundreds of units and properties, and enter to win prizes from some of your favorite Bloomington businesses.
Oct

Beyond Appearances: Videoconference with French Film Director François Ozon
7:15 p.m.
Global and International Studies Building, Room 1060
Writer-director François Ozon will discuss his most recent film, "By the Grace of God"; the real-life events that inspired the film; and the complex relationship between filmmaking and the social and human realities that it depicts. The film, due to be released later this month, follows three men who band together to dismantle the code of silence that continues to protect a priest who abused them decades ago.
Oct

Science Fest
9 a.m.-3 p.m.
Franklin Hall
The Media School is part of IU Science Fest. Carve a virtual jack-o-lantern, star in a haunted podcast and interact with ghosts and goblins using the latest in audio and video game development software, and then measure your psychophysiological response.
Lisa Ling: Open Heart, Open Mind
11-11:45 a.m.
Indiana Memorial Union
Journalist Lisa Ling, host of CNN's "This is Life With Lisa Ling," will speak about cultivating a global perspective and opening our hearts and minds to the tough issues beyond the safety of our personal lives.
Admission is free.
"Dr. Strangelove" screening
4-5:35 p.m.
IU Cinema
"Dr. Strangelove or: How I Learned to Stop Worrying and Love the Bomb," directed by Stanley Kubrick, was produced during the Cold War and is a darkly comedic critique of nuclear weapons.
The event is free, but ticketed. The Media School is an event co-sponsor.
Oct

"Donbass" screening
4-7 p.m.
IU Cinema
"Donbass" (2018) depicts the current war between Russia and Ukraine. The film, which is part of the Ukrainian Homelands Film Series, explores the psychology of war, including how propaganda and "fake news" affect an individual's perception of events.
The event is co-sponsored by The Media School's Center for Documentary Research and Practice.
The event is free, but ticketed.
An Evening with Anderson Cooper
7 p.m.
Musical Arts Center
Anderson Cooper, anchor of CNN's "Anderson Cooper 360°," is the second speaker in The Media School's fall Speaker Series.
Tickets are available online and at the Musical Arts Center box office. Tickets are free for students, though online orders require a $5 service fee. Use the promo code STUDENT. No service fee is charged for in-person orders.
General admission tickets for non-students are $25.
Deadline: Nov. 15
The Media School has limited funding to support undergraduate scholarships for students who plan to study abroad. Some opportunities are restricted to specific countries, areas of study and financial need.
Deadline: Dec. 1
The Margaret H. Knote Advertising Award is available to Media School students interested in creative advertising copywriting. To be considered, submit five pieces of creative copy for any media, including traditional print ads, video/TV scripts, storyboards and press releases. The first-place winner will receive $5,000, with prizes for second and third place as well.
WFHB Community Radio
Intern/volunteer
The award-winning WHFB news team has immediate opportunities in reporting, editing, audio production and narrative storytelling. WFHB will supervise internships, so students can receive credit through internship classes MSCH-X474 or MSCH-X472.
Deadline: Nov. 1
Spend the summer or fall of 2020 interning and taking Media School classes in the heart of Hollywood. Past internship placements have included "The Ellen DeGeneres Show," NBC Universal, FOX Sports and many more.
Deadline: Feb. 1
The Walter Center for Career Achievement will host its third Washington, D.C., spring break career trek for students in the College of Arts and Sciences. Students will network with employers and alumni through site visits, round tables, panel discussions, networking receptions and more. The Walter Center will hold eight information sessions during October.
If you have news to contribute, such as callout meetings or other media-related events, complete our Submit Your News form.